Fellow Mickey Mouse club alum, Justin Timberlake proclaimed Christina Aguilera the strongest and best vocals of his generation. As I mentally replay her musical catalog through my head, I do have to say I agree (admit it - even Genie In A Bottle
was pretty good vocally,no? Just me?).

The singer extraordinaire has been promoting her new motion picture, Burlesque (check out the Original Motion Picture Soundtrack
), where she shares the silver screen with an icon for many generations, Cher. When she sits down for Thanksgiving dinner this month, I'm sure she'll be thankful for these great opportunities as well as being honored with a star on Hollywood's Walk of Fame.

Though I am a bit saddened by the breakup of her marriage (was I the only one rooting for these two strangers?), I'm glad she's back in the spotlight. Rocking a red lip on the regular with curve hugging styles, she seems to have figured out the magic formula of being sexy without showing too much (and while being a mom) with every red carpet.

Photo Credit: Phun
She's not the only one checking the books and getting their study on, though. As mentioned before, green is a very trending color in a gal's wardrobe, and so Christina aptly had some competition. Kristin Cavallari sported a green mini, which may have outsparkled, but not outshone Christina's flowy strapless getup. It all depends on what you prefer on your starlet, no?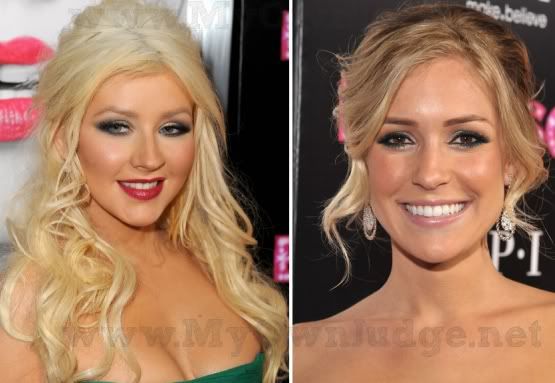 The two gals stepped it up a notch and had a forest green smokey eye. I am favoring Christina's for the presence of lime green/yellow towards the inside of the eye (whereas Kristin's looks like a neutral tone, or just an absence of color).
Who worked it best for you?