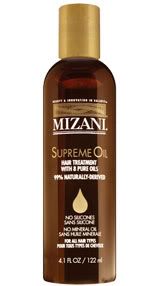 I recently had the pleasure of attending a product launch for a brand already near and dear to my heart; Mizani. From previous posts regarding hair and recreating styles (check some out here), I have always mentioned the necessity of using some hair oil, whether it's to maintain the softness of your hair several days after washing and styling, renewing your do, or just to add some sheen for that "I was in a commercial" overall style.

The event was very last minute on my schedule, so of course I was caught unawares without my camera. I tried to make my Blackberry do it's best, but at the moment it's doing it's worst at uploading the images when I need them (so stay tuned!). The launch was for Mizani Supreme Oil.

Some info about the product:
Supreme Oil is a 99% naturally-derived formula with 8 natural oils (sesame, jojoba, almond, avocado, apricot, olive fruit, sunflower and argan oils) that is silicone, mineral oil and paraben-free. Designed for any hair type, this ultra-light treatment penetrates and absorbs to treat and smooth the hair, so it is not greasy unlike silicones and mineral oil that only lay on the hair's surface. Experience a truly exquisite treatment with an ultra-luxe velvety touch. (source)

The benefits as listed on the
site
:
1. Delivers intense moisturizing & exceptional softness.
2. Imparts incredible shine.
3. Nourishes hair and skin.
4. Leaves hair and skin soft and silky.
5. Helps enhance skin's overall texture & appearance.
6. Fortifies and strengthens hair to help prevent breakage.
7. Improves hair's elasticity and manageability.
8. Locks out humidity for continuous frizz control.
9. Non-greasy, fast-absorbing.
10. Can be layered over or under other hair or body products.
I haven't subjected the oil to a rigorous test yet, but from using it at the event I can vouch for many of the claims. The oil is a smoothing, frizz erasing (depending on what state it catches your hair in - my hair desperately needed a wash, so it just softened the disaster area) hair sheen, which also doubles as an all over scent and body oil. Right after I put the oil on my hair, another attendee inquired as to what my perfume was.
Because the oil contains zero silicone, parabens, or waxes, it is safe to use on the body as well as the hair. It's actually the smartest to do, because all hair products touch our scalp (and thereby our skin) in any case. The oil is not greasy and leaves your digits free to type away on Twitter or shake hands with new contacts within minutes. This was the most (pleasantly) surprising feature for me, because that's one of the necessary evils I agree to when I use hair oil (almost every day). I usually have a box of tissues handy to wipe the excess grease away, or head to the bathroom to wash my hands.
The company already covers much of haircare in terms of
Scalp Oil
,
Conditioner Treatment
, and basics like the
Shampoo
and
Conditioner
, but this product serves as a multi purpose product for ease of use. It works with every hair and body treatment (blowout, smooth, renew, natural extensions, braid refresh, scalp treatment, body, etc.) and is travel friendly.
I'll take it for a spin for a week and let you know how it works out. In the meantime, you should still try it out and consider getting one.
What is your favorite hair product?