Did y'all hear about the drama going on with Self Magazine and Kelly Clarkson's September issue? A lot of people are abuzz about how much she was photoshopped for the cover, especially for an article that was to promote staying true to yourself.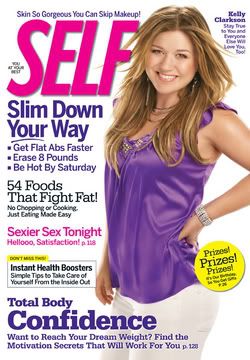 The editor of the magazine found the backlash to be significant enough to issue a response. This is what she said:
Last Friday, the Internet was abuzz with the fact that I answered the question, did you Photoshop the September issue cover photo of Kelly Clarkson? with the answer: Yes. Of course we do retouching (though it's technically not Photoshop, but that is semantics). We correct color and other aspects of the digital pictures we take and then publish the best version we can.
Check out the rest of
her response here
.
Now I know this is a practice by many magazines. It is hard to not remove some pimples here and there, and other imperfections that really - separate it from a photo shoot and a paparazzi/candid shot. But there's a much bigger difference when the person is so seriously altered that they practically look like a different person.
Currently,
Olay
came under much scrutiny for their photo shoot with model
Twiggy
, where her real life photographs versus her photo shoot posed some serious differences. So much that the British government is considering banning photoshopping (though appropriate for MOJ!).
In the past,
Kate Winslet
argued being photoshopped to an unrealistic image in
Vanity Fair
.
Jessica Alba
was photographed for a
Campari
ad, where they even digitally moved the positioning of her knee. And of course,
Kim Kardashian
had some retouching done for her
Complex
magazine photo shoot. In this case Kim supported the photoshopping and justified it to be the same as removing redeye from family photos.
Here's the
Self
video from the shoot (though they conveniently don't have any clear footage of her below the belt)...
I am a flip-flopper on this issue. I know it gets done, but I like it done to a minimum. I'll agree to a "perfect skin tone" touch up, but not to a "half the body misconstrued." I also think being that the issue had a "staying true to yourself" theme, they should've kept it to a
serious
minimum and used minimizers like
Spanx
and ruching, and crafty posing... ya know?
What about you Ladies & Gents of the Jury? What's your verdict on photoshopping in general, and/or on this case alone?